CRAFTING A NEW WORLD OF CREATIVE 

POSSIBILITIES WITH A SQUEEGEE AND INK.

Screen printing is at the heart of what we do and is the foundation of our business. The process of creating a custom t-shirt may seem very straightforward. However, the process of screen printing can be very complex as there are a lot of variables that factor into the process. At Eternal, we have spent years dialing in our techniques, simplifying our processes, and implementing new equipment to improve our production speed and quality.

 

There are several different screen printing techniques and inks that can be applied to any project to create the desired look and outcome.
Spot Color
Spot Color is the most commonly used printing method. Designs are printed using stock and custom mixed inks. Colors in the design are normally solid with no halftones (gradients). When printed, colors are vibrant, opaque, and the ink layers are smooth. Spot color printing provides the most consistency from print to print and is seen as the go-to print method for most designs. When printing a solid color with process inks, there may be slight variations in the color balance that can affect the color's consistency. This print method can be printed on lighter or darker color garments.
Simulated Process
Simulated Process is a printing technique that uses halftones dots printed as a gradient. Tones can range from solid spot to halftone in the same color. The dots create a shading effect to your artwork allowing us to achieve a more photo-realistic look. Which enhances the design and graphic quality. When printing with halftones, less ink is used which produces a softer feeling print. This print method can be printed on lighter or darker color garments.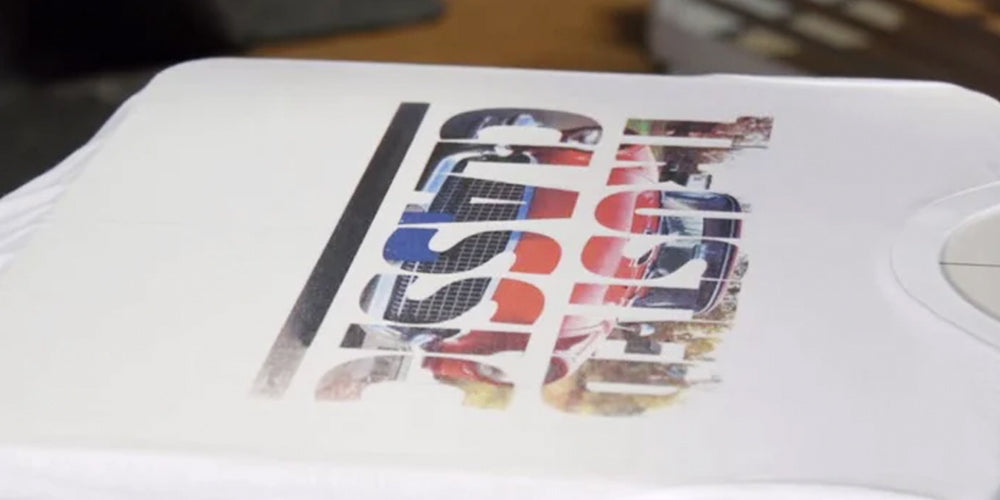 4-Color (CMYK) Process
CMYK is the oldest and most complex print method. Using
cyan, magenta, yellow and black inks, to recreate a photo-realistic full-tonal high detail image. CMYK printing emulates the same process that happens in all desktop printers. But instead of using paper, a t-shirt is used instead. Lighter-color garments like white or neutrals are the best color to use for this print method.
Plastisol
Widely used by most print shops for its ease of use, durability, and flexibility. Plastisol is made of PVC particles suspended in a liquid plasticizer, that is active when heated. When printed plastisol sits on top of the fabric rather than integrating into it. This ink provides the be coverage, and the most, constant print, while being very vibrant, and opaque.
Water based
Used often on fashion styles garments for its lightweight no hand (not rough to touch) soft hand feel. Water-based ink uses water as the main solvent for carrying pigment. During the drying process, the water is evaporated leaving the pigment with is integrated into the fabric. Water based ink work great for lighter garments. However, due to the opacity of this ink, it does not work well on darker colored fabrics. Note, prints will fade a bit when washed.
Discharge
Discharge ink is a water based ink that has an activator added to it that essentially bleaches out the existing dye and re-dyes the fabric to the color of the ink. Discharge only works cotton garments. Not all garment discharge well, which can make color matching difficult. We highly recommend washing each discharge printed garment before wearing them. Once washed, the print will be soft and weightless.
Shimmer
Shimmer ink is. Plastisol-based ink that contain metallic particulates that create a shimmer or sparkle effect. This ink works well on garment types. Due to the heavy metallic flakes in this ink, highly detailed images should be avoided.
Specialty Inks
When you are looking for that extra something, certain specialty inks can provide that different look, you are going for. We offer a lot of options from Puff, Plush, Sculpture, Grow in the Dark, Clear Gel, Foil, and more.  
FREQUENTLY ASKED QUESTIONS
Are there any setup fees?

No, we don't charge a setup fee for any screen printed projects.
What is the minimum order quantity?

Yes, there is.

-Minimum 24 pieces – 1- 3 color design

-Minimum 50+ pieces – 4 - 7 color design

For any orders with custom finishing (custom private labels, hem tags, etc.), there is a minimum of 50 pieces.

Minimum order quantities only apply to one size range only. Customers are not allowed to mix sizes from adult, youth, and toddler without hitting the minimum size requirement for the stated size.  If you would like to add youth or toddler sizes to your order, the minimum quantity is required:

Youth/Toddler

-12 pieces – 1 - 2 color design

-24 Pieces – 3 - 4 color design

-36 Pieces – 5+ colors design
Can I mix and match garments for my order?

Yes, you can mix and match garments like t-shirts and hoodies. As long as the design is the same (same size and colors) and the print placement does not change. If there are changes to any of these options, a new order must be placed.  
What is the turnaround time after an order has been placed?

Our standard turnaround time is approximately 8 to 10 business days (Monday –Friday). Orders that include specialty inks and add-on services like retail finishing
or packaging may increase turnaround. Please see out Terms for more details.
Can my order be shipped?

Yes. We ship to all 50 states via UPS, although USPS (United States Postal Service) is also used as an alternative.
Can I supply my own garments?

Due to issues with garment quality, garment sanitation, and print control, Eternal Designs will no longer accept customer-supplied garments, under any circumstances. Eternal Designs must provide garments for all customers' custom print orders. This doesn't apply to, nor does it affect contract vendors.